Indian kurtis are sort or mini versions of conventional long kurta worn in North india which has now become known globally .This beautiful smaller version of kurta has managed to spread its charm all around the world and has become quite a fashion statement .kurtis have revolutionized the way Indian women look ,feel  and express. This piece of trendy garment that can neither be classified as Indian nor as western has become one of the most versatile and trendy statement for women across all barriers of age , size and religion .Whatever be the occasion , a kurti or a tunic will be your saving grace for it . Kurtis , looks effortlessly elegant ,royal and classy ,make a women stand out in a crowd.It refresh her appearance and adds a charm to her persona .Every women needs designer kurtis that makes her look absolutely beautiful from regular .Kurtis are become very popular among women & teenagers nowadays.
The most attractive and distinguishing factor of kurtis is that various style can be adopted so that the specific occasion for wearing it can be fulfilled . they are available in simple fitted type as per the measurements of the wearer as possible .Kurtis are most comfortable to wear and can be worn for every occasion college and office-goers love wearing it due to the flexibility and mobility that the outfit offers ,accounting for its popularity .
There are different types of kurtis you can choose according to your use and theme:–
Best for Casual Wear—
A-Line Kurtis-
This is popular among the young girls and teenagers .The kurti is shaped like the alphabet 'A' which is narrow at the top and flares at the knees or ankles. The accessories include leggings and churidars.It is available in many designs, colours and embroidery patterns .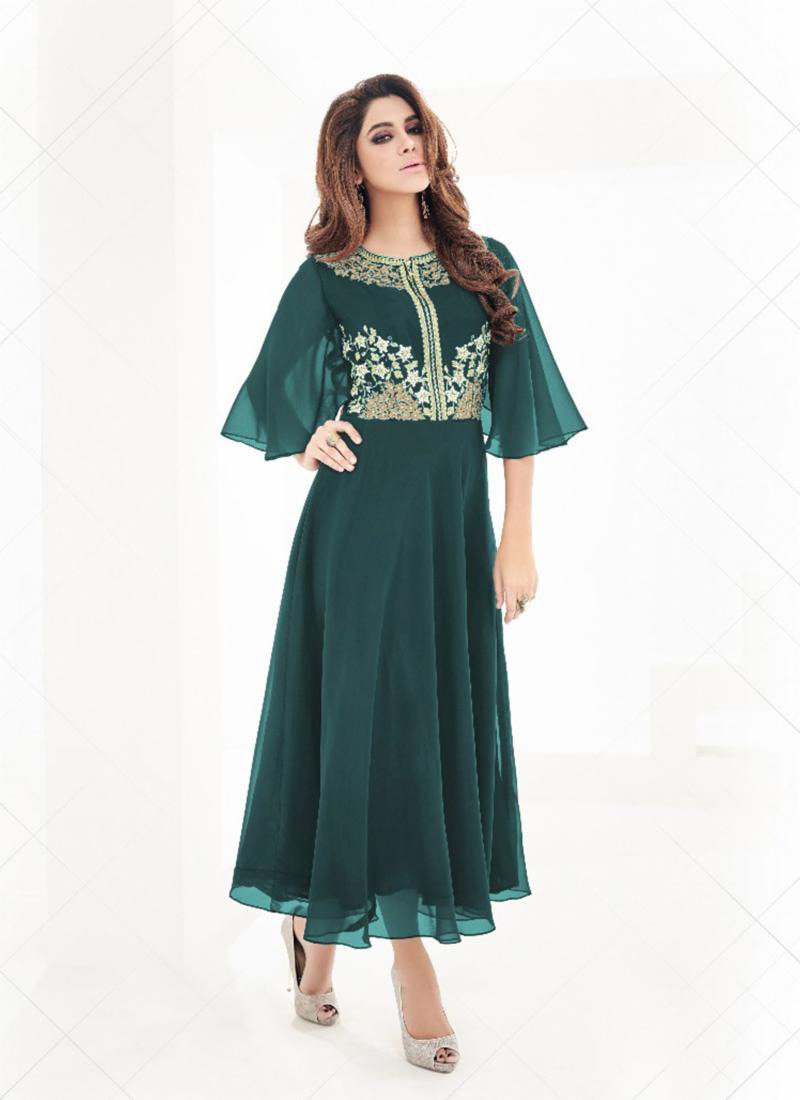 Flared Kurti:–
These kurtis provide a better look to fair skinned girls .It is strapless ,with a narrow upper part and a flared bottom.it also goes well with formal and party wear .
Long Straight Kurti:–
This is a straight forward kurti with a long hemline. You can choose the long kurti to boost your looks , and you will look taller and straighter when you are wearing these kurtis. If yoy are having an elongated face cutting ,you can opt for this kurti .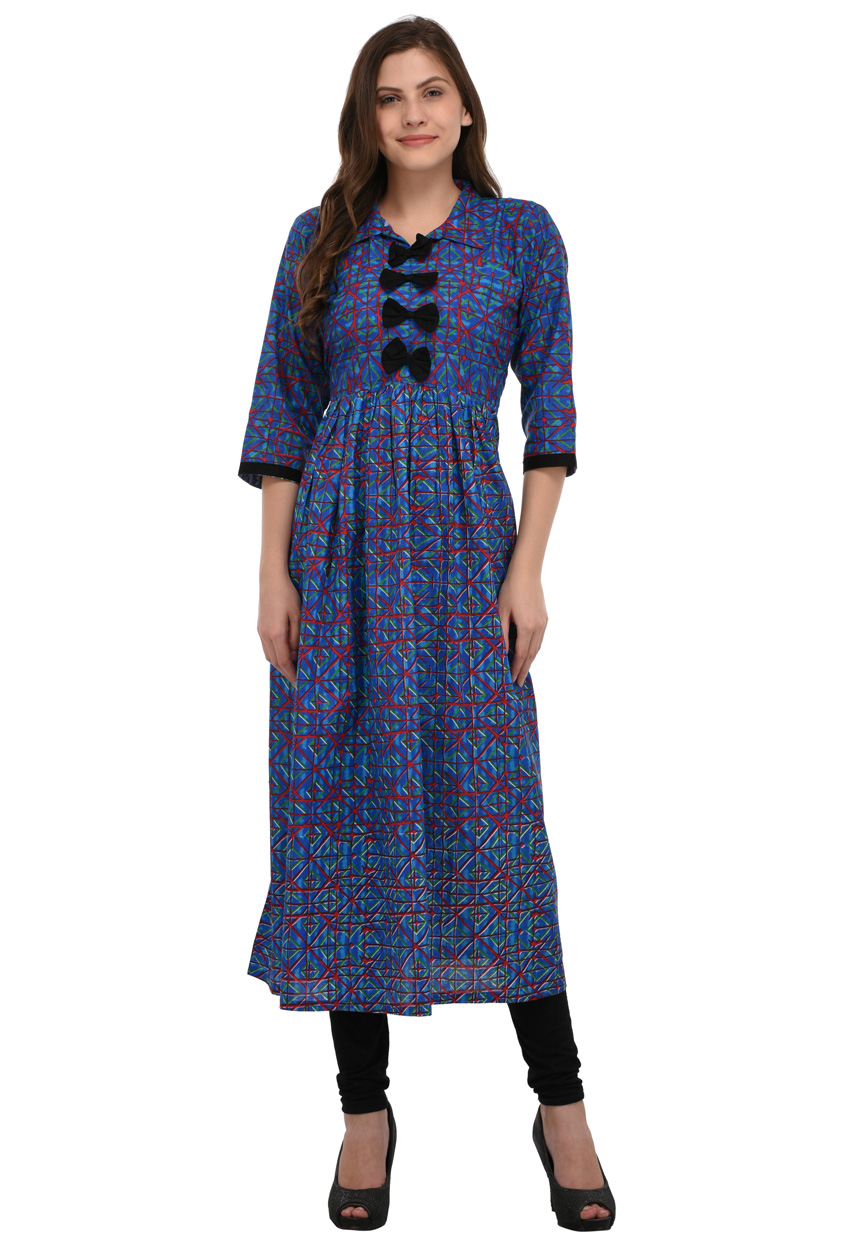 Best for Casual and Party Wear :—
Anarkali Kurti:–
These can be used in many purposes , from parties to causal wear. So you will able to wear it in different purposes. It fits every kind of build pear ,Hourglass ,Apple and Rectangle .It pairs up nicely with churidar or leggings.
Angrakha Kurti:–
This is a stylish kurti that looks like royal court's musicians .There are two overlapping flares that are tied at the side with a strap .it goes well with churidar , leggings or a pair of jeans .
For Big occasions and Parties :–
Trail cut kurti:–
This is one of the best kurti that people wear for parties .There is either a short front side or a back side ,which looks like the tail of the other side .The material should be picked carefully as they impact the look of the dress.It is best to go for chiffon , georgette , silk with bordering embroidery to beautify the designer look of this kurti .
Dhoti style Kurti:–
This is one of the most innovative variations in kurtis , which is shaped like a dhoti .It is very comfortable because of its loose fit yet is an outstanding designing innovation. it can be tried with stockings or leggings.
Gown Style Kurti:–
This is a latest designer kurti that reaches up to the floor , and gives a royal look to you. It is made for red carpet and weeding purpose .it comes in full length and many designs , prints , and embroideries .
You can also choose according to your body shape as every person has different shape.
Apple Shaped Body:–
Characteristics:-Rounded shoulders, average to big bust , fullness around the middle ,flattish butt & good strong legs .
Style tips:-
Kurtis that are of darker shades .
Try to stick to Cotton and silk fabrics as do not cling to the body .
Simple A-Line kurtis that flow seamlessly.
Neckline that are V-shaped or embellished so to draw attention to the much endowed bust .
Kurtis with embroideries around the hem and shoulder design .
Flared and cuffed sleeves.
Banana Shaped Body
Characteristics: Straight shoulder line and rib cage ,straight hips and butt ,subtly defined waist & average tummy .
Style Tips:–
For a body shape like that ,wear kurtis with broad & deep neck.
Create a definition of your waist by opting for belts over the kurti.
Choose kurtis that give an illusion of a curvy silhouette.
Anarkalis or kurtis made of heavy fabric will add that much needed volume .
Go for slimmer and sleeker bottoms like churidars and legging .
Kurti with a nipped or clinched waist .
You can also try kurti with front placket , panel detailing or pleats .
Pear Shaped Body :–
Characteristics: Full hips and things and may be saddle bags , defined waist ,shoulders narrower than the hips and smaller upper body .
Style Tips:
Darker lowers paired with lighter kurtis will draw attention to the torso .
Anarkalis and kurtis with flare .
Necklines that work well for this body shape are collar pattern , boat neck and square neck style .
Textured or printed kurtis draws attention to the upper body.
G o for sleeves that make your arms look fuller like bishop and rounched .
Add length to your body by wearing straight cut long kurtis .
Hourglass Shaped Body :-
Characteristics: A defined waist, a defined bust & a neat bottom and hips.
Style Tips:–
You are blessed, You can carry off almost all types of kurtis .
Kurti that define the waist suits your body shape the best .
Choose kurtis with good fit with a flare .
Take attention away from your heavy bust by wearing deep necks that streamline the chest area .
Pair your kurtis with pallazos or straightcut bottoms to add length .
Keep away from ill fitted kurtis that hide you gorgeous curves .
Summary:-
Kurtis have become one of the most favorite attire of women of all ages .From casual college going to attending wedding and parties .Kurtis are turning into must have in one's wardrobe .